Page 1).

The history of our RC models and modelers ...

I think it is a good name for my next chapter of life, full of wonderful experience and expertise.

RC ... abbreviation of the English translation of the word Radio Control, in Czech just "radio controlled". It's an acronym for models that are controlled remotely, usually the transmitter and receiver, and wirelessly. With my cousin Milan Škaloud then Škaloud Pepa, for many years we have penetrated into the secrets of models building.
Yes, it was not just a radio controlled model ...

So from the beginning.

A lot of guys in the preschool and school age wants to be a soldier, fireman, dustman etc. I wanted to be the pilot should have. I had all the easier, my father worked in aircraft repair shops as a mechanic. I had it from the beginning to the aircraft more than close.

I started gluing plastic models. First, in scale 1:50. Such "common" simple. At first I glued together, or rather "not realy good", but I gradually improved. It was of course the contest or exhibition, but if so remember, it was the very worst.

... But then came a whole new era!
We got in the magazine plan to "model driven with short wires". The model was not motorized, powered only by rotating the wire. The problem was that the rope was short and try to imagine how many turns you have to do before you fall! Well, I admit that the beginnings were not easy. But we were young and restless :-) Aircraft / models are dominated by a short handle, which resulted from two wires. The handle is held vertically. When you bend your wrist upward rising model, the opposite wrist motion model declined. Written, it looks simple, but the opposite is true. It required much practice.

And ... the aircraft has flown!

But then Milan brought from a friend small engine combustion modellers. I would compare it now to overcome the sound barrier in real aviation.
The engine was named MK-17.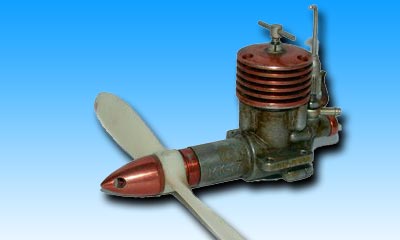 He had red ribbing cylinders, which was not dissimilar to the flag of the former producers ... Soviet Union (for the younger generation, now it is Russia, but the flag stayed the same).

First start the engine ran with absolutely no experience. The workshop, on a wooden seat. We spun the propeller, the engine fuel shed, it was a mixture of ether and kerosene rycin oil in the ratio 1:1:1, I think.
What was our joy when the first engine growled.
He ran at idle, but for us it was a lovely song. Milan then came a few days of school with other findings. When the handle pulls the top of the head of the engine, the engine adds speed. Along with this, the needle must tune the fuel, then said Milan. Anotherthings how to play around with this for us divine engine. And the speed! Wow ...

When we already had the engine barely under control, it is time to think, to him will be filled. The simplest model based on the best models without motůrku.

His name is pretentiously ... "Coach". Since the photo survived, will use drawings from Milan Photochronicle (for which I thank him now).
Milan was always detilista. I rather practices. Where Milan measured twice, I used cardboard and cloves. Especially whether it's in the air.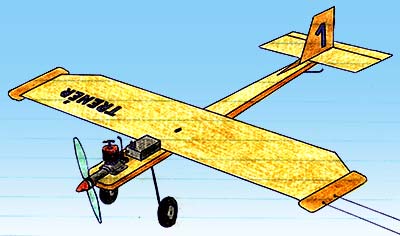 TRAINER :

- Typ : model from balsa wood

- Span : 350 mm

- Profil : desk, balsa 5mm

- Engine :Diesel engine MK-17

- Displacement : 1,5 ccm
Coach At first we tried just on the street, with short guide wires. The aircraft missed each semicircle, hardly wore on, but I said to Milan, that he almost flew ha, ha. Looking back now. I'm laughing ...
Finally, we exchanged the cable for thinner steel. We took the model of the playground and on the long rope. We call the engine at full speed and ... model after driving a few feet really raised! Well, neuletěl Although neither group because we did not really know how to drive yet, but already have certain experience in the captive non-motorized models. The track is an attempt to prolong the trial. Finally, as was Milan's my attempt to complete. That means take off - years - landing. That, meanwhile, often repaired, certainly do not even write :-)

A similar aircraft I built it myself. I wish I had a engine. After a few long nights with my dady and mom, I finally got it. But it later. Milan has already completed its second model. As I said, Milan is a "plaything". Flat hull is already disliked him so we started to try hulls square ... the room. The first super machine named Martin and has been built according to plan from a number of modeller.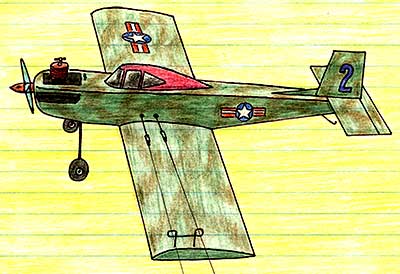 MARTIN :
- Typ : tethered model
- Span : 550 mm
- Profil : balsa with paper
- Engine :Diesel engine MK-17
- Displacement : 1,5 ccm
Martin looked as good, as well as flying!
He had a wing coated paper. The fuselage was of two balsových sidewalls, which have been linked partitions. I built the same machine, just differently colored. He flew perfectly well. I do not know exactly, but after a few havárkách I shortened the machine. Compensate him to the new dimensions and it was my first confined aircraft, with whom I did flip!
This historic achievement is documented in the picture below. It's the model in the background. In the foreground Milan is preparing its third model line to be named "shoe".

It was about our next version of Martin aircraft, but with additional modifications. One of them was a complete engine cowling. Cover the engine gave off that easy access to all elements of engine...


I have been innovated its flight park for another model. It is a proven model of innovation, Martin, but my editing style aircraft from WW I. Then the First World War.

The aircraft was a biplane. This means that it had two wings one above the other. He flew great but again, like his older brothers, Martin and Mustang.


The next step in our innovation attach the picture below left ... Photos are unfortunately not survived either, so replacing drawings, or are in bad quality. But a little enhanced by the atmosphere of the time. It was not to have everything perfect. The idea was to do it and experience it.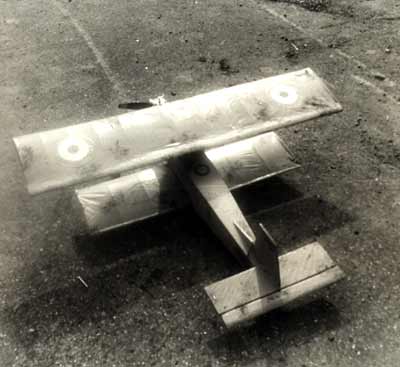 TRENÉR WW-I :
- Typ : balsa wood with two wings
- Span : 550 mm
- Profil : balsa with paper
- Engine : diesel engine MVVS - 1,5
- Displacement : 1,5 ccm
The black and white picture shows a model Mustang. But this list of models their photos in color lower.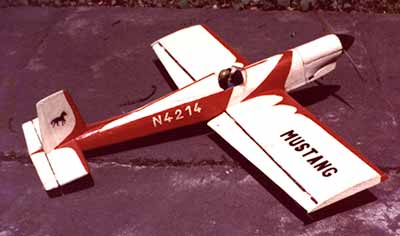 MUSTANG :
- Typ : tethered model
- Wing span : 550 mm
- Profil : balsa wood with paper
- Engine : diesel engine MK-17
- Displacement : 1,5 ccm
The last captive model that deserves there name was Milan's "Bettyna".
It was a machine with a flat hull, but with a new engine Raduga 7 cc. Unreleased engine, Russian-built again. Well, unfortunately, the Russian quality. The engine had a well-balanced handle, the test on a wooden bed breaks even once the screws that hold the damper cylinder head.

The aircraft did not fly I never ...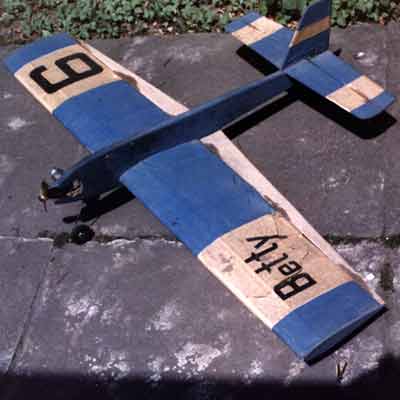 BETTY :
- Typ : tethered model
- Wing span : 1400 mm
- Profil : balsa wood with paper
- Engine : russian engine RADUGA
- Displacement : 7,0 ccm
So much of our era-wire driven models ...