Page 3).
1986 ...
As my other plane, I built a multi-channel "combat" with an angular body and cover ala F6F - Helcat. I liked the fact the teeth in the mouth to open the engine cover. Model looked very well and seemed mainly flew very well. The picture does have broken cover on the wing, but it was repaired and flown away.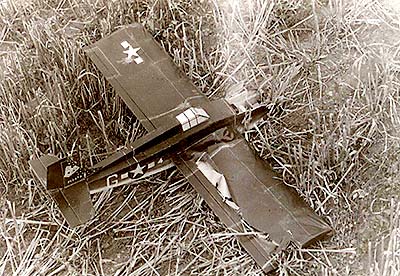 Wildcat :
- Typ : my construction from balsa
- Wing Span : 800 mm
- Profil : balsa ribs with paper
- Take off : fly from hand
- Engine : MVVS 1,5D RC
With this model I passed easily several dozen flights. He operated aileron and elevator, MVVS 1,5 D I made with RC carburetor, so i went to control gas. The RC Kombat, which I proposed this model, but it never happened. We were at that time still "ripe" to be met in the air with multiple models simultaneously.
Notable was my next model in the picture below. Martin proven hull type, but all parts and wing I made ​​from polystyrene foam, coated paper. The first model, which I tried with "the RC loop". It was on the field at Ctěnice. Unfortunately, I flip through ignorance and inexperience in the field finished. But ... I could not find him!! I got quite into the wine press of time, because, as I remember, I drove a few hours with train to school. I had traveled to Moravia and the connection was only in the afternoon and then went to train at night. Fortunately, it turned out well, with the help of mom and dad, I found the model. (Sorry for farmers trampled crops).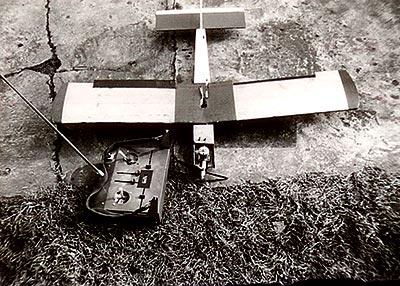 Acro - RC :
- Typ : all balsa model with foam wing
- Wing Span : 800 mm
- Profil : acrobatic
- Take off : fly from hand , withoud gear
- Engine : MK 17D - amateuristic RC carb.
It is worth noting and transmitter on the left side of the model. I built it together with my dad. I did the drivers and cabinet, then dad electronics inside.
Next model in my list of good flying models must be black - white Spurt. It was a model with a fiberglass hull, polystyrene wing. The engine was already with more content ... MVVS 2,5 D and exhaust with custom design.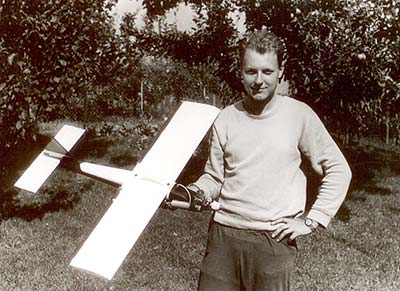 Spurt :
- Typ : speed model with fiberglass body
- Wing Span : around 1000 mm
- Profil : almost symetrical
- Engine : diessel
- Capacity : 2,5 ccm .. D - MVVS
Spurt was my first model of management which I almost always sweat. It took the aerodynamic shape, a good profile and was incredibly fast. Due to the high speed and landing without landing gear, landing was not anything simple. But he was quite well built, well-painted, so it could also quite nice look.

But given that model makeing is a hobby, it must be flying in and relax a bit. Milan took a picture of me in one of my relaxing respite.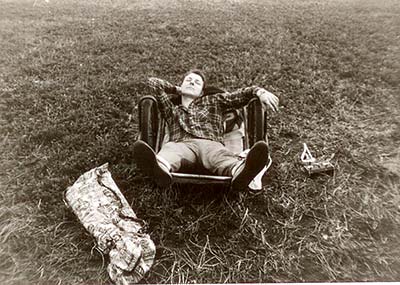 Relax :
- Typ : wooden handcart
- Wing Span : around 1500 mm
- Profil : as modelers need
- Engine : one or two modelers
- Capacity : how much they eat :-))
Another machine with which heaven Brázdil Milan, was a model glider called Aramis. It was back design, which he invented himself Milan. The machine was balsa, with the design wing and flew well. Coloring in red and natural varnished balsa suited him.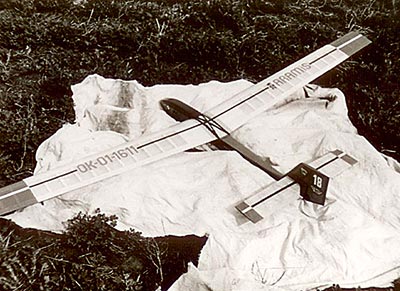 Aramis :
- Typ : balsa model with paper cover .. colored
- Wing Span :2000 mm
- Profil : semi symmetrical
- Take off : with bungee rope or towing
A little nostalgic sigh ... I used to pick up on Saturday morning, models, radio, tool box and went with the guys on the field. On foot, it was about a mile. We had a car and yet I spent every free time modelařině. On foot, by bicycle, just as they could. And as you can see from the photos, I had at that time, 100 kg net weight as I am today. I can not imagine much that would anyone do that today (2012) in our hectic-paced time.
So , back to modeling ... flying with models.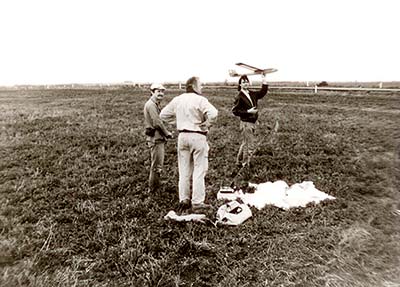 - My friend Oskar "Ota" Budský ... hanging a model
- His dad Franta Budský
- My cousin Milan Škaloud ... with chaps
- The flight zone at the road junction Vinoř-Počernice
In the photo are friends Budsky of Zizkov. With Oscar I took frienship to college in Uherské Hradiště. Although I was a "freshman" and he "quarter", but it did not matter. Oto , it was his nickname and his dad are super guys. They were good engineers. They made their own molds for fiberglass hulls (at that time was not possible to come to the store model and simply buy what you wanted). My first fiberglass hull and the glider was obviously MADE BY Budsky. And flew again excellent, but still get it.
1988 ...
My cousin Milan also in their pattern shops, and here it is idle to show his power RC PONY.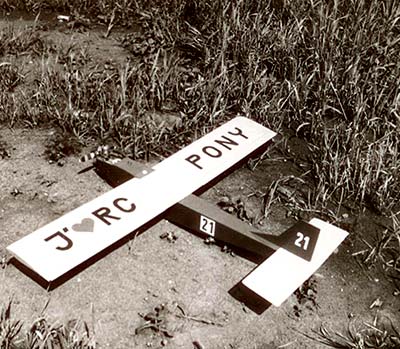 RC Pony :
- Typ : all balsa with paper covered wing
- Wing Span : 1220 mm
- Profil : balsa ribs with cover
- Take off : fly from hand
- Engine : MVVS 3,5 RC
- Channels : 3 - engine, roll , pitch
Model Pony was like my Sputr, very fast. It was aerodynamically very clean and it did not chassis it hamper anything when flying. He had but a little smaller than the area load spurt, so landing approach took place at a lower speed. Milan model sprayed red - yellow and the model was so very nice and attractive.

The model I used spurt engine model containing 2.5 cc, then Milan Pony 3.5 cc. Motůrek containing 2.5 cc is shown below. Little by little we began to move away of 1 cc and 1.5 cc. It was our "starting" content motors and I think that even so little content on our toes could well "sign". Propeller kicked us, an expression when you blow into the propeller finger. Sometimes we have to cut his propeller, but nothing could stop as :-))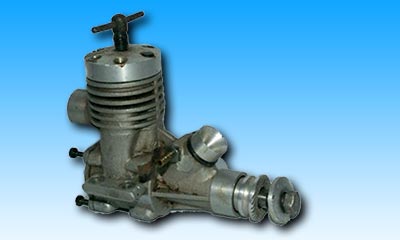 MVVS 2,5 D :
- Typ : Diessel model motors
- From : Czech firm MVVS - Brno
- Fuel : diessel .. mex from eter - petrolum - rycin oil
- Capacity : 2,5 ccm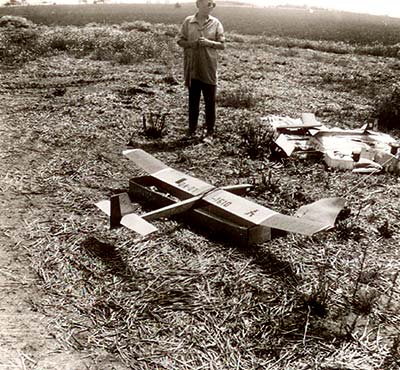 Asterix :
- Typ : all balsa glider
- Wing Span : 1980 mm
- Profil : semi symetrical for gliders
- Take off : towing or bungee irope
- Color : red - yellow with colored paper
- Body : wooden strip with paper cover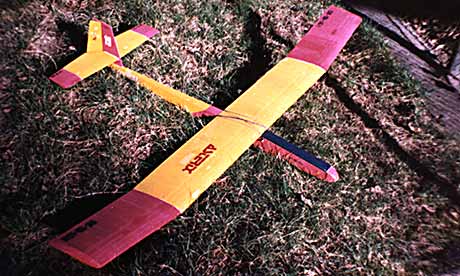 It's been

a long time

,

but the picture

reminded me of

my

license plate

in Model

: OK

01-1610

.

Asterix

was a

very successful

model.

It was a

kit

made ​​by

Model

and I had

him

as I

and

my cousin

.

We even

went

with them

to competitions

and

fly

RC

V2.

No

wonder

we

never did get

the location

.

Compared with the "

profi" of some

competitors

were

Asterix

"wooden strips model", but

sometimes

even

a little

zadařilo

.

Asterix

was

light weight model

and I remember

how the

Milan "

lifted" in

a round

of about

thirty

meters.

Grab

thermals

and finally

dialed

to about

500 meters.

It

deserves

applause

...

At the bottom

, black and

white

image

is probably the only

shot

when

my

Asterix

and

Milan's

next to him

.

This

photo

proves that

we had

each

his own.





I've never been

in their

pattern shops

born

racer.

Several

competitions

, mostly

RC

V2 (

glider)

I

have included

, but without much

success.

Just

once

, I think

positively

, I

was eleven

and

fifty

of the

final

flight of

escaped

me

by one place.

Progressed

ten pilots

...

damage

.



1989 ...





I was

always

more of

a design engineer and

pilot.

I liked

to

draw

maps of

models

, devising

various

non-standard methods

and types.

The

picture below

is the start

of my

QB-

20H

model

.

It's worth

noting

, because the

model

I had

hinged

on the first

hook and

defends

gas after

take-off to

idle

mode,

the hook

slid

and was

ready

to land

...

the

letadlovku

:-))

We

is

stretched

across

the road

intercepting

wire

, like

on an aircraft carrier

.

Several

attempts have been

completed

in the "

gutter", but

then

began to flourish

and

actually

followed the

landing

system

ala

aircraft carrier

landings

.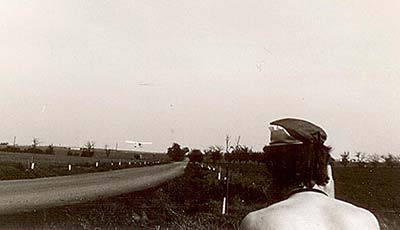 Take off from carrier - road without cars :
- Typ : QB-20H , model from Japan
- Wing Span : 1500 mm
- Profil : acrobatic , symetrical
- Engine : Webra 3,5 ccm .. after that MVVS 3,5 RC
- Undercarriage : three wheels
From our flying I even have video on 8mm black and white film, so I try to upload it to YouTube and put a link here :
Well, well ... managed and the first YouTube video on my website. Sorry about the quality, but 8 mm black / white film, copied to the camcorder and then transferred to a PC ... It has few data on the altar was made on-line monitoring.

Another picture is one of the best flying structures. Parasol was a model. The design plan prepared by a small Modeler magazine. The model had a very interesting profile of the wing from the designer name Jedelski. It was actually a modified Clark Y with extended rear trailing edge. The profile was very arched up and flying with this model was fabulous. With two-wheel landing gear was without any problems takeoff and landing speed was about "slow walk". The model I had in the winter and ski properties takeoff - landing is still improved.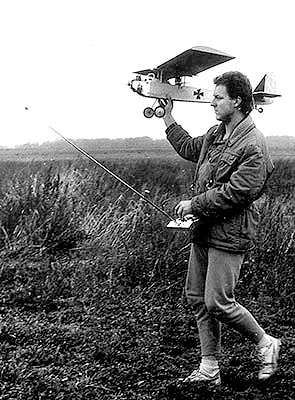 Parasol : engined top wing model
- Wing Span : 1800 mm
- Profil : Jedelsky , very slow and cool
- Engine : MVVS 3,5 RC
- Undercarriage : two wheels
- Wing : polystyren with two struts
- Fuselage : all balsa maded... maket pilot head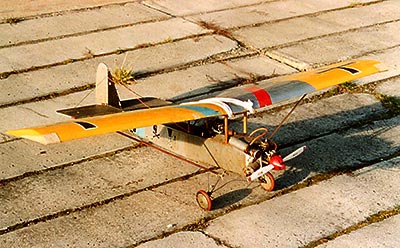 The model had a total of two accidents in one with a big damage, but I corrected him and got him to this day (2012)!