Page 2).

"TRY NOT TO WIRE Dear MARCONI"

Our experience deserved pumped forward.

It's time to look after the next rung modelers industry and that was for us to remote control models, using the transmitter and receiver.

First set the remote control was the so-called "ONE CHANELL DRIVEN ONLY". The model is handled only rudder. Disconnectors addition, it is a mechanism that controlled the rudder was called cickcak. On the one hand, electric rudder attracted motor and the second rubber band or spring back. The model then either flew to the left .. when the transmitter button was closed, or flew to right.. if the button was closed. Are you asking how to fly straight? Simply. Had to be in a certain interval switch button. It was then alternating to the left - right = fly straight :-))

Perhaps it is best to see the next photo. It's a photo of my first single-channel radio. He built it to me my dad, but I use the modern word "design" (ie dyzajn - Czech), which I did for the radio itself ... and it shows. Wooden box, the antenna of the welding wire and went at it. In the middle panel, a button and light transmitting / not transmitting.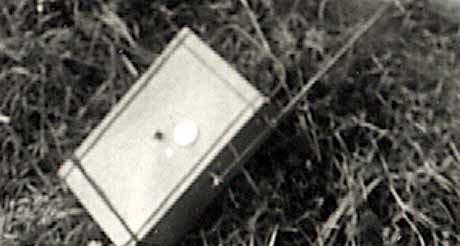 Transmitter : one channel - amateur ( we made myself )
- Modulation : AM
- Power : 2 x battery 4,5V
- Output power : 0,5W
- Range : around 1km
- Driver : push button transmit or not transmit
My cousin bought a Milan-channel kit, but in a plastic case with a single control lever and a button. Switching command of the lever, then did a lever built multivibrator varied duty cycle switching. It was the first hint of the pseudo proportional control.



Perhaps it would be good as the first map to show our air space.

He drew her to Milan and it is easy to see how we have with our models surrounded by native Vinor.

Figure 1). The so-called "PALPOST". Area field trip, combining Vinor way - with a highway Ctěnice Vinor - Kbely.

number 2). The field beside a country road and the road between Ctěnice Přezletice - Barn at Čakovice.

number 3). The same dirt road, as in No. 2, but left the field.

number 4). The field near the road to Upper Počernice

number 5). Football pitch "Dynamo Vinoř" Sokol-Vinor today.

Number 6). Fields under way Ctěnice - Přezletice.

No. 7). Our favorite "Krecht" ... asphalt area behind the village Ctěnice, which was used for storage of agricultural crops. Over the year, however, was empty, and ideal for us. Nobody lived in the area so anyone we did not mind the roar of engines.

No. 8). The field under "ctěnický Grove" ... Tomickovo area next.
My first RC was KOS. Again, I preserved photo, at least figure hands.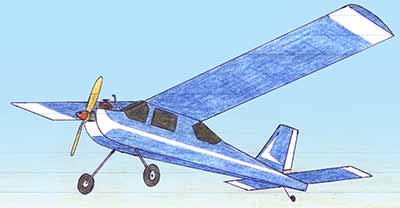 KOS :
- Typ : balsa wood free and after that RC
- Wing span : 1200 mm
- Profil : balsa with paper
- Engine : diesel engine MVVS 1,5
- content : 1,5 ccm
It was the first model with spatial fuselage, wing aircraft. At first he was a radio controlled, but free. It was also the first model that I flew. I played it at a new school in Vinoř. The first flight was a little wasted, and after descending about 100 meters of the model landed. The second year I have the engine "dialed" to a higher speed and threw it. Kos has gained height and it shot off. I jumped on the bike and began to catch up with the model. After about an hour of searching I found him on the field near Přezletice. Then I remade it on the radio. He flew sunny days.

As I may have mentioned in the text, I used to drive a czech motor MVVS-1, 5D. It was a detonation engine again. The picture is good to see some more elaborate process than was the MK-17, but at that time we did not take it. The engine had good compression (stuffed him good piston in the cylinder), so his hands were running very easy. It is true that when we let up a little bit of attention, we knew how nice "kick". Anyone who had anything to do with a motorized propeller startovaným fingers, it will certainly be able to understand the expression ha, ha. It hurts especially in winter. (An expression that the engine kicks, originated from this property motors. If you were in the cylinder more fuel than was healthy, detonated the fuel before the piston reached the peak of his career (TDC = technically speaking) and the propeller you badly slashed through the fingers). Also remember that the engine roared tremendously. Then I got a shock to him and then it was much better.

Propellers for our models, we used different. Like the engines.

I remember that Milan had for its MK-propeller čku original green color, from the Russian plastic of unknown origin. I used a plastic propeller Czech. Sometimes I tried a wooden propeller, but it was expensive and could not stand my rough treatment and sanding the floor. And from the beginning that it was not enough ..