Side 2).
...big step forward.
Abbotsford International Airport, British Columbia, AIRSHOW 2001.
A little bit of British Columbia in Canada.
I was with the Otto`s father at the 2001 Abbotsford International Airshow. Aviation Day at the former military base.
I'll start off with a blade. In order to see that it was a military - civilian air show. I made this picture with the working title "Titan and Goliath." As a large aircraft, or vice versa the other little imagining yourself.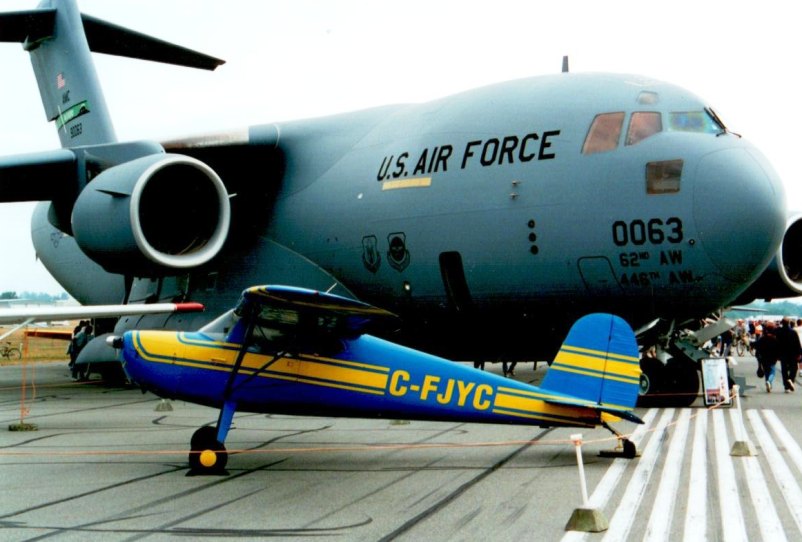 The next picture is one to take off two extra-300, performed by aerial combat. This was because the aircraft from a company that offers training and high-flying battles. In the background are airplanes Canadian Snowbirds aerobatic group.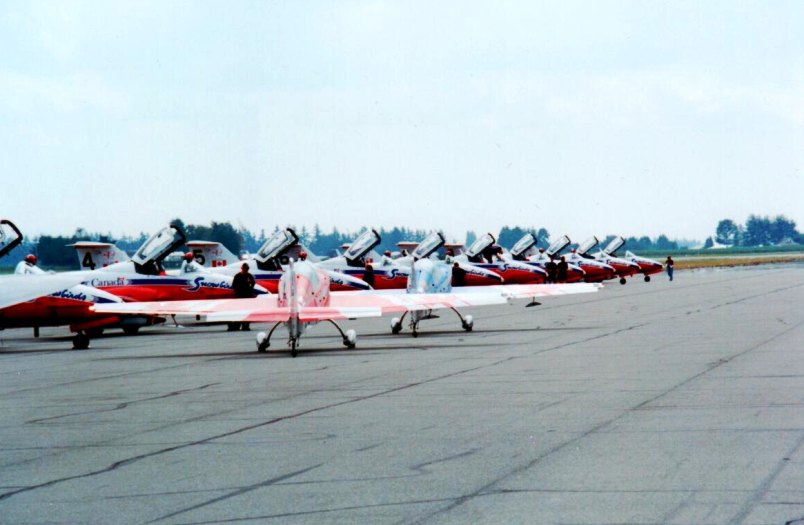 Here is nice to see how the "Western" airmen work with the public. Signatures, posters, gifts for kids, smiles and friendliness. At any children or other visitors asked the pilots tried to answer.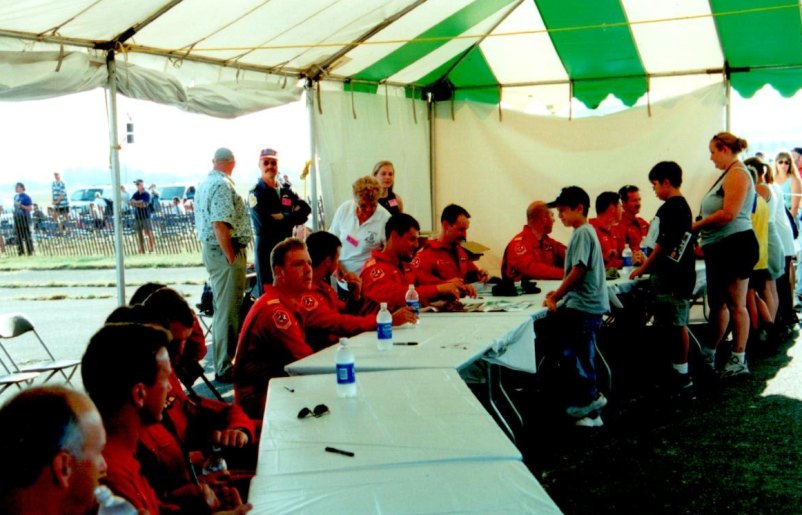 The next two photos Snowbirds aerobatic group in full regalia.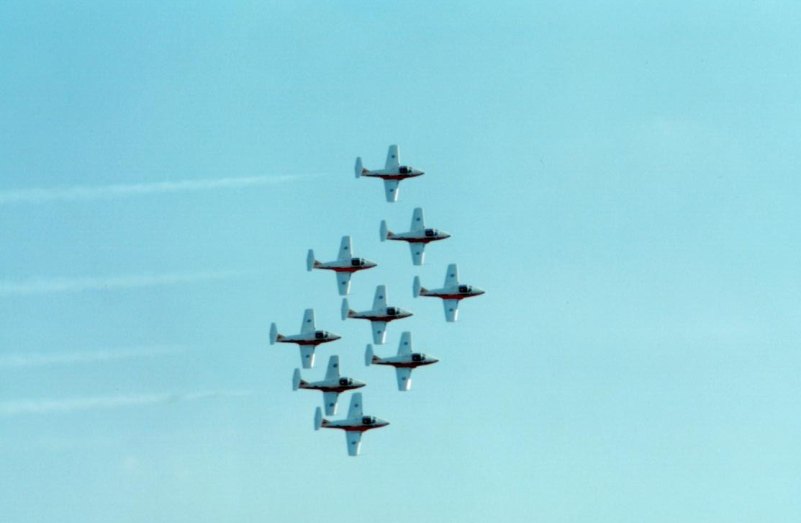 The next picture is slightly interesting perspective, in 2001, something incredible for me. Looking to the outlet nozzle strategic bomber B-1B! When I tell you that I got into the cab, maybe it will seem normal for somebody. But imagine that just a few years before us by politicians almost airplane in the hands of "murderers from Wallstreet" atomic bombs rained on his head. Well, fortunately this did not happen and a few years later I was sitting in the cab I ... Fortunately, as a tourist and enthusiast.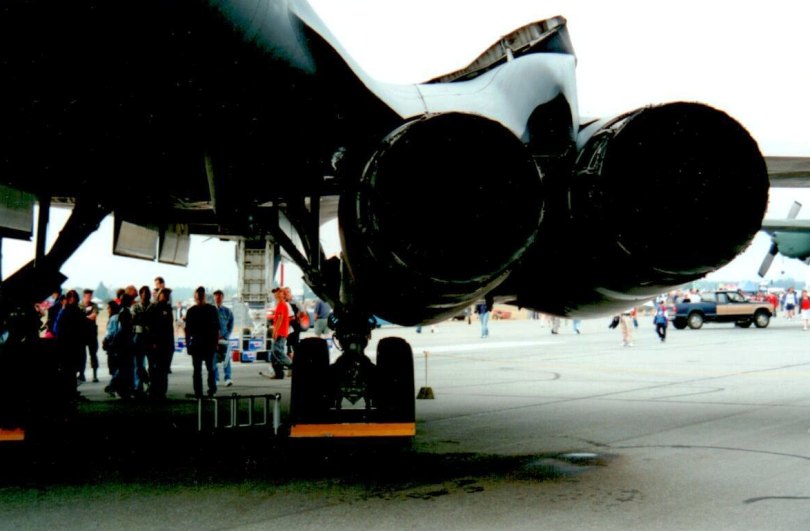 For me, quite interesting device that I took the system for refueling in flight on KC-135th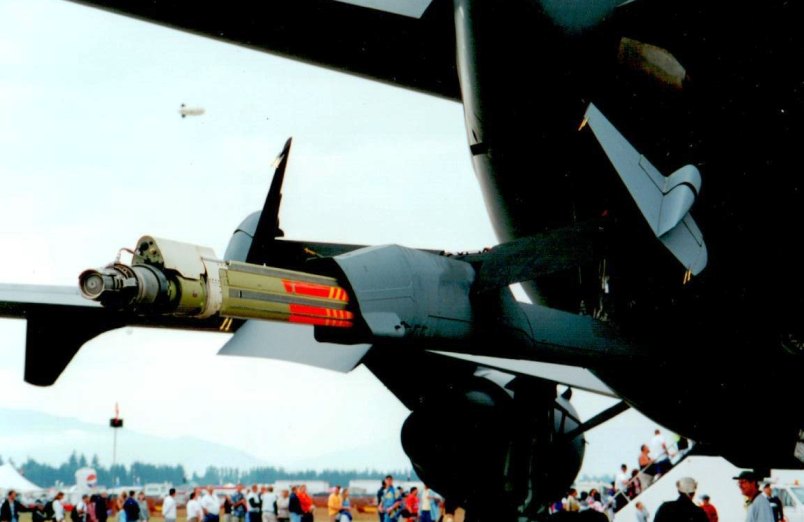 That Canada is part of NATO, and indeed North America is seen in the territorial characteristics visitor from the U.S. Navy. It's early warning aircraft, known as AWACS. Belonging to an aircraft carrier and shows a thick, striped latch hook.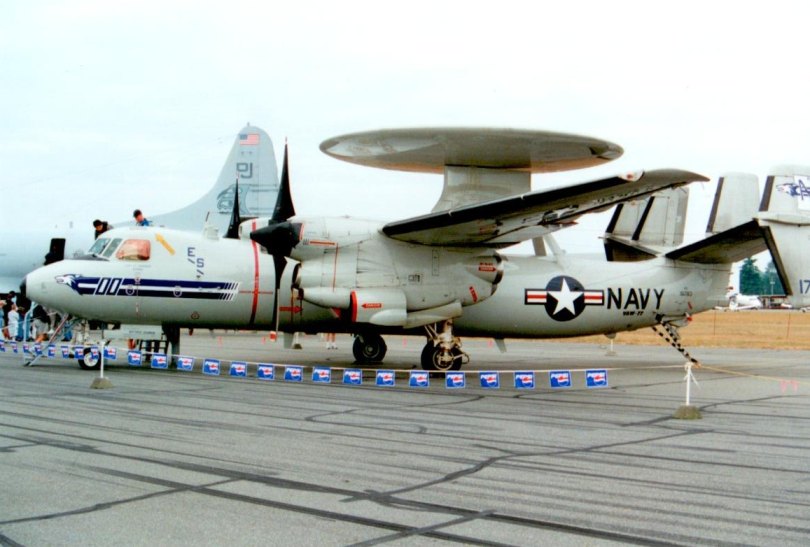 FA-18 Canadian Air Force, who has just returned from the parade show.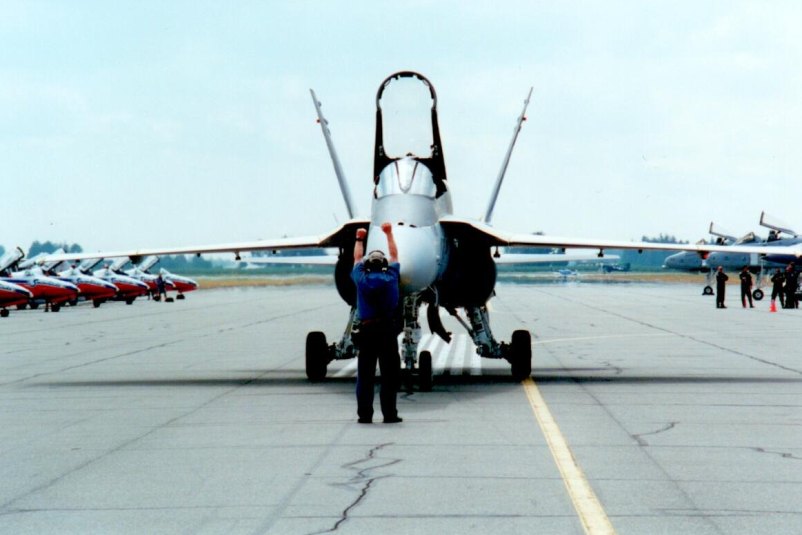 The next picture is yet to return my " blood group ". Aerobatics Extra.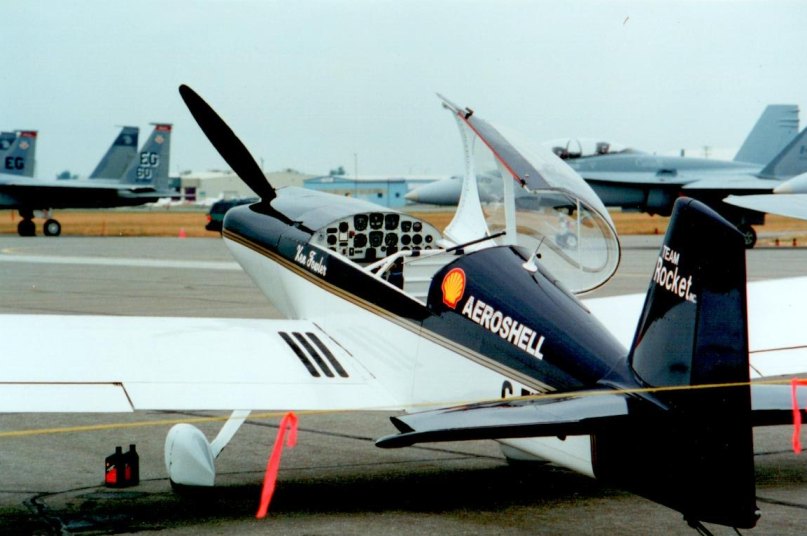 Hen with the Abbotsford Air Show ... F4U-Corsair. Beautiful, original, refurbished piece of aviation history. Engine sound despite the deafening roar was the swan song for aviation lovers.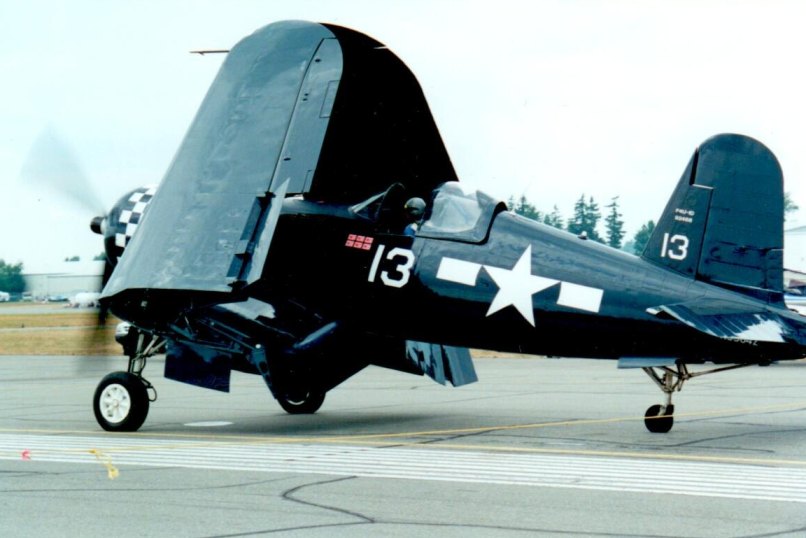 The photo that is no longer the airshow, but the American Museum of Washington State. It's an old transport aircraft, which transported cargo in its huge trunk. The inscription on the trunk "Erickson Air Crane" aerial crane, it only indicates.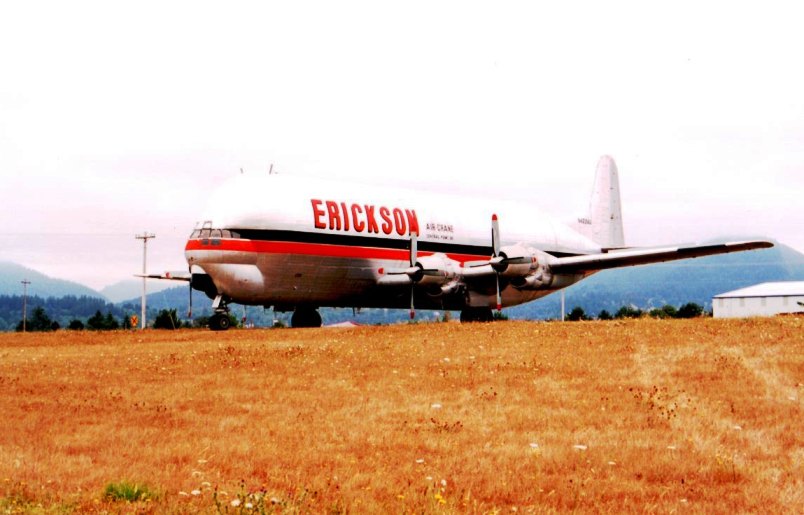 At the bachelor party with airline experience in Canada, I put two photos from airports. This is a Turbo Beaver airlines Whistler Air.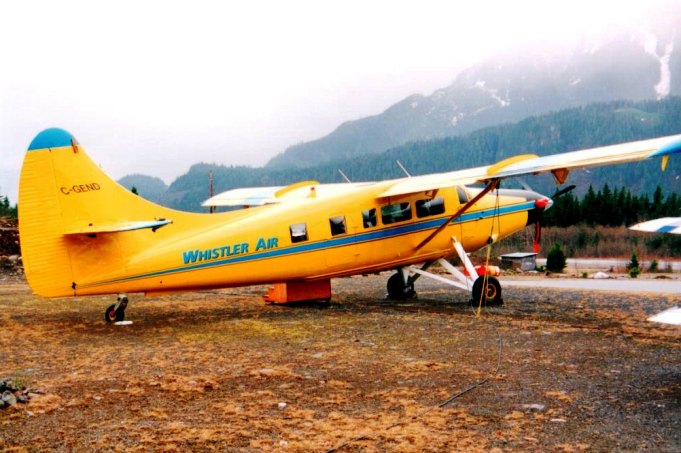 The last picture is then civil helicopter company Tundra Helicopters, the helipad A.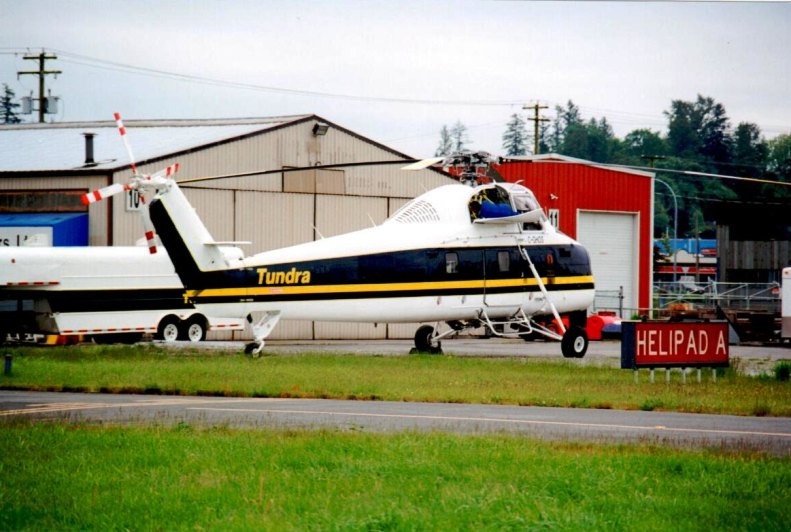 ***
***
2009 _ jumps in time, I. ..
In 2009 I fulfilled a lifelong dream!
That little boy would dream about to fly sometime "in army jet"? I dreamed of since his youth. When I'm at my dad at work saddled Mig-21, I imagined what it was like when I rumble turbine under the butt. No propeller ... only the roar of a jet engine and energy that drives you forward.
This dream come true. With friends, "hearthers" who gave to cluster such gems as the L-39 Albatros and its operation in the civilian regime.
But hurry into the cockpit ...
The first picture L-39 Albatros OK-JET, which currently flows into the life-giving energy from ground power supply.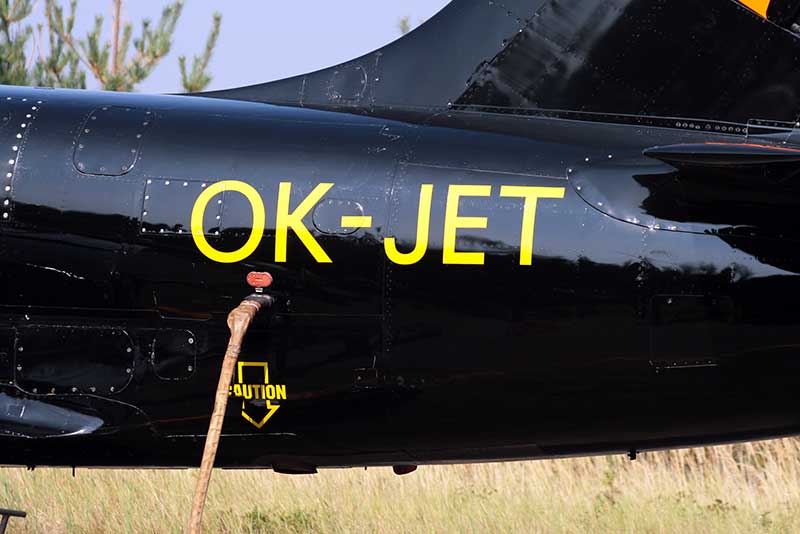 The horse is ready. Front view of the L-39, it is so good! Engineers of Albatros is a wonderful achievement. I am proud to say that this is a Czech product that plows through the sky Many countries and even to a large extent a "big ocean" ...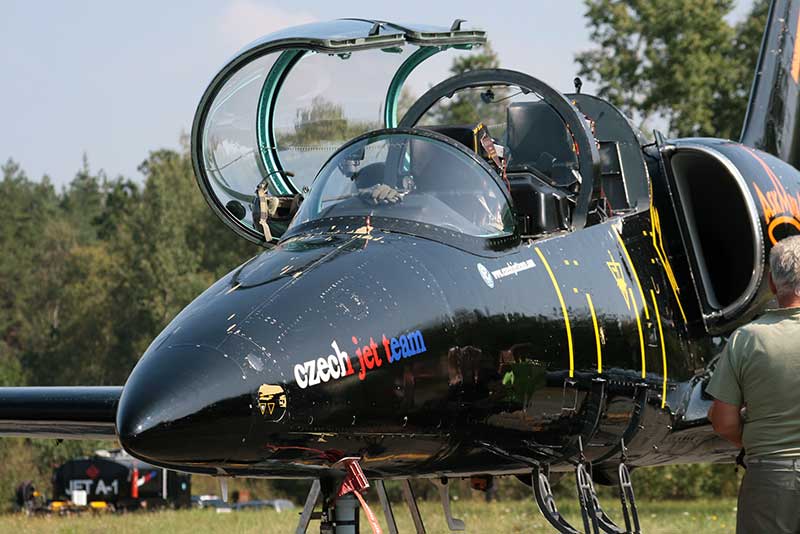 "Hot seat" ... One of the things we perceive pilots while, but nobody wants to use some voluntarily. It is true that I also thought how cool that the airplane is equipped with an ejection seat, but in my imagination I always ended just before the man pulls the two handles ...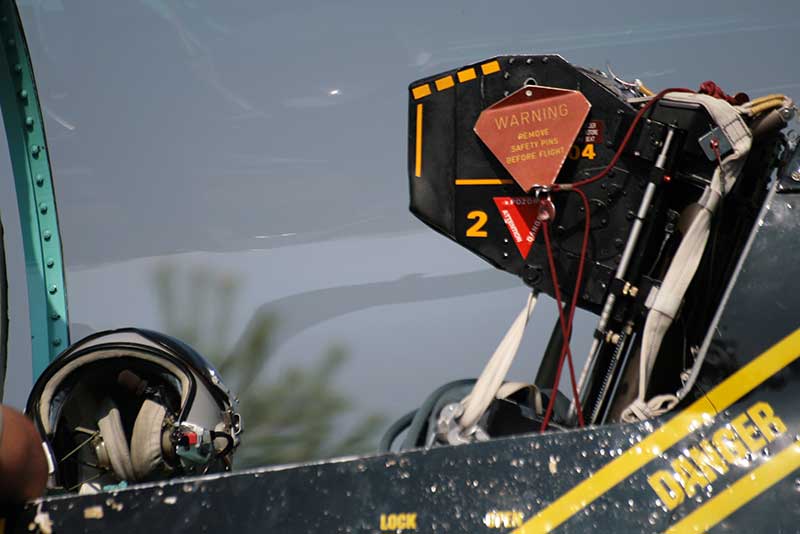 My "Guru" ... Vlada Kvarda that I did pre-flight briefing. As for the flight itself and a detailed procedure fired from an aircraft in an emergency.
From the pilot's perspective and also from the angle of the model, which holds pilot in his hand, it is clear that L-39 is NOT an ultralight!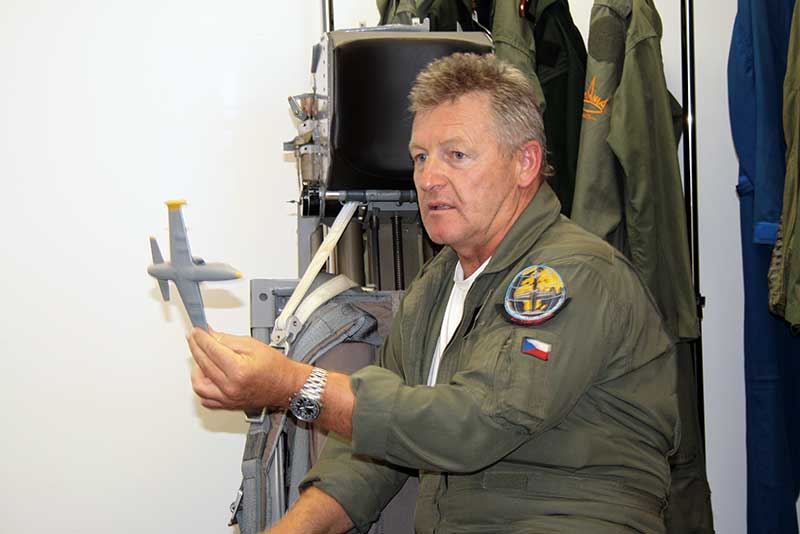 In this photo is my little thing right before makeup to ejection seat harnesses and helmets deployment of air.
Thumbs-up lens and the phrase: "I am ready to go"! My friend Franta Vacín still controls the hot seat, then just remove secure pins. This ensures ejection seat that does not start his life story still on the ground. Secure pins are numerous and are connected by a red "cord" which is visible in the photo above left, at the top of the seat. I'm not a complete expert system for eject seats, but I think secure pins sure handles, striker pyro cartridge, housing stabilization parachute, start machines etc.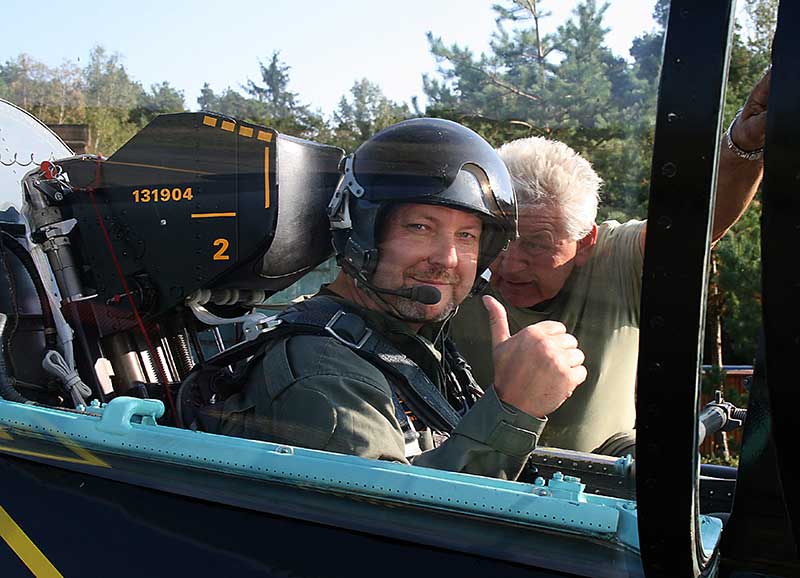 I've been already closed in the cabin. Franta still closes covered front pilot cabin. For L-39 shimmers with warm air, which means that the "fiery dragon" in the engine is awakened to the life.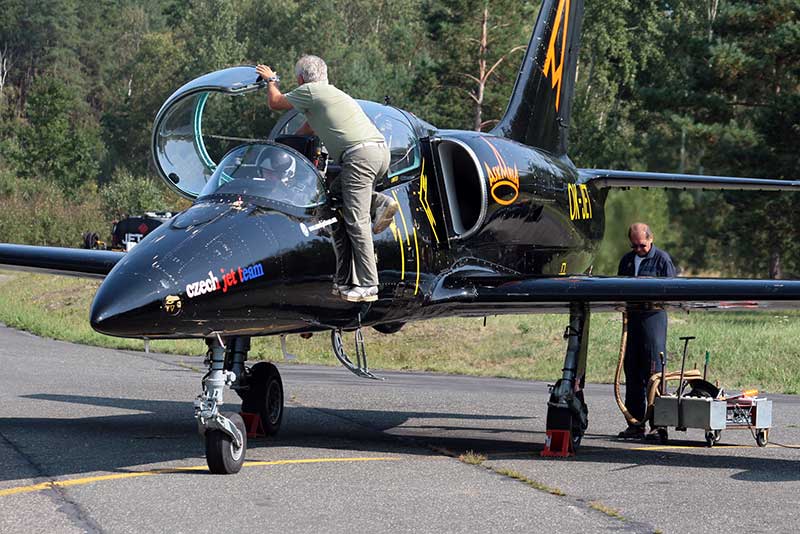 ... and here we go!! Vlada pull off brakes and we go for my biggest life experience.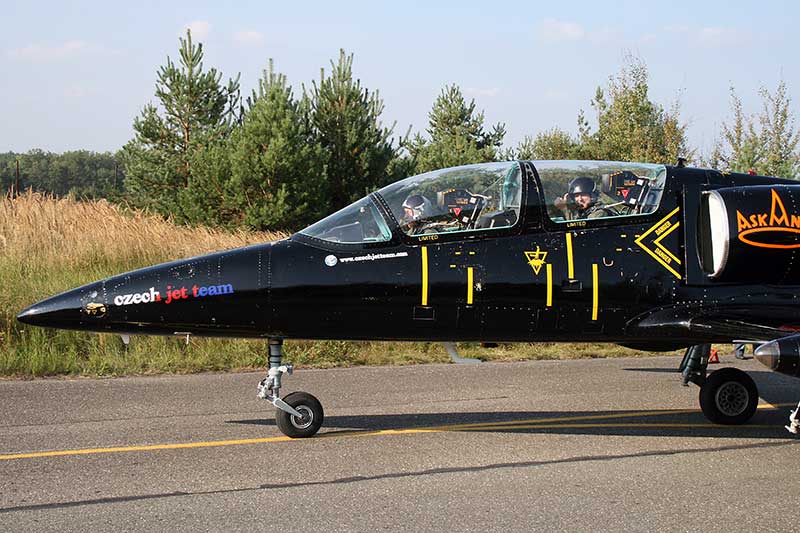 The flaps in the position for the start ... cockpit secured ... full throttle ... start.
Smooth take degrees to the zone. L -39 without a single movement smooth sailing area and power pushes the aircraft forward . The headphones will hear : "Are You ready ?" Yeah , rocks, answer ... stick with inches to the side and L -39 flips on the wing . But the movement never faded ... I was a bit taken aback , but when I'm upside down I'm all clear. Vlada rotating roll . It was good as a start.
We continue to achieve a zone around 3500m. L -39 flips back and falls down the tip ! This is the most incredible experience of my flight. Let's dive and then the government starts to attract . Gecko grow , the aircraft is in the horizon , but the movement never faded again ! He pull up ... and L -39 is now flying straight up. Finishing the loop ... All O.K. ? , Asks the Instructor. I Just beeps O.K. ! We are again in the horizon and L -39 increases the fly straight up. I watch over her right shoulder wing tip and we're going now really straight up . Watching an eye on the speedometer , where the speed is decreasing. Then kick pedal feel and Albatros flips over the wing tip of the aircraft and describes a semicircle beautiful ! Beautiful turn shall be ! ... and then straight down.
Horizont ... bum , the plane goes on the wing and I feel that I stick inches in the crotch . Vlada attracts ! First, my little space narrowing vision, then the colors begin to change to " 50 shades of gray" ( an allusion to literary achievement debatable ) and I see only a narrow circle of black-and- white , government permits . It is amazing ! ! I am euphoric. That feeling probably experienced fighter pilot in World Wars. With the only difference that sometimes black appeared to always ... honor their heritage. Me but fortunately returned color vision ha , ha .
After that, compared to the reference line airport Plzen - Line ... undercaridge out ... flaps for landing. Pull up smoothly and we're at home. Touch with the track , like when you step on the stairs! Excellent ...
In the picture below we arrive to " dispersion" as used to be called parking fighters in hives , away from the runway .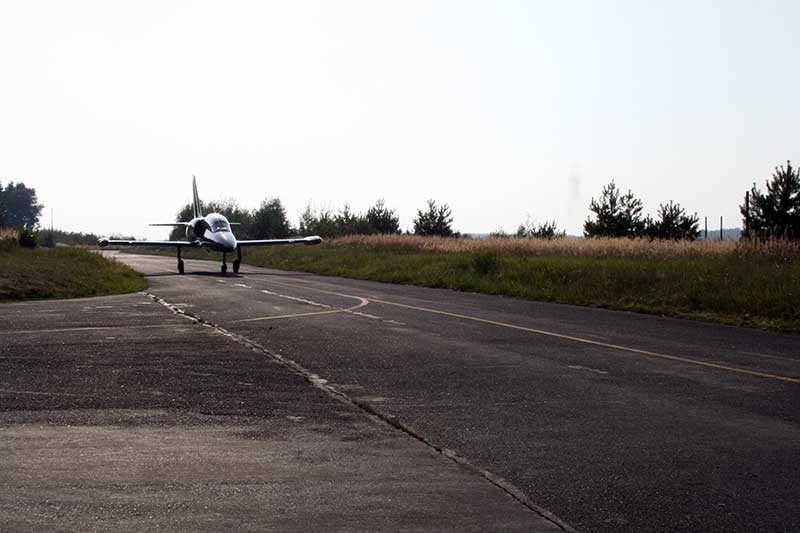 Flip holding my leg, I just hit the first step and tumble down I was down on the asphalt. We get a total of sync and I even rehearsed ha, ha.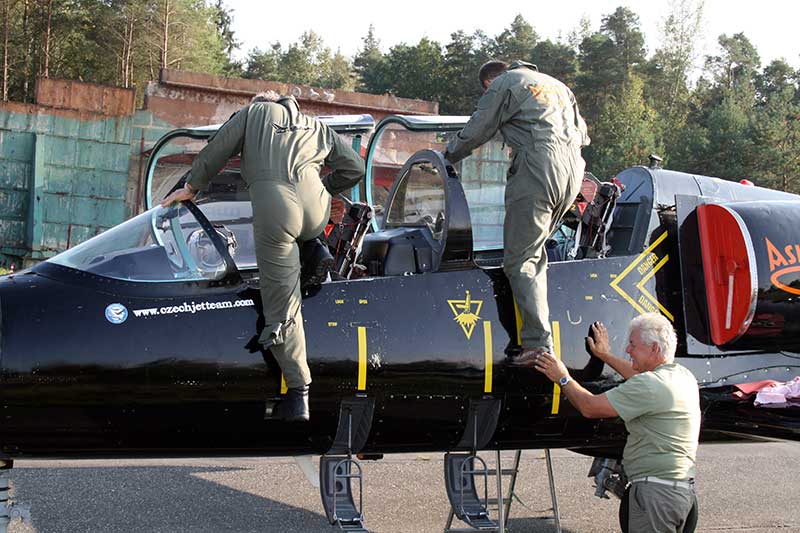 One more common with my instructor. In the plane I was getting around a bit more ... the G-force pushed me a little :-)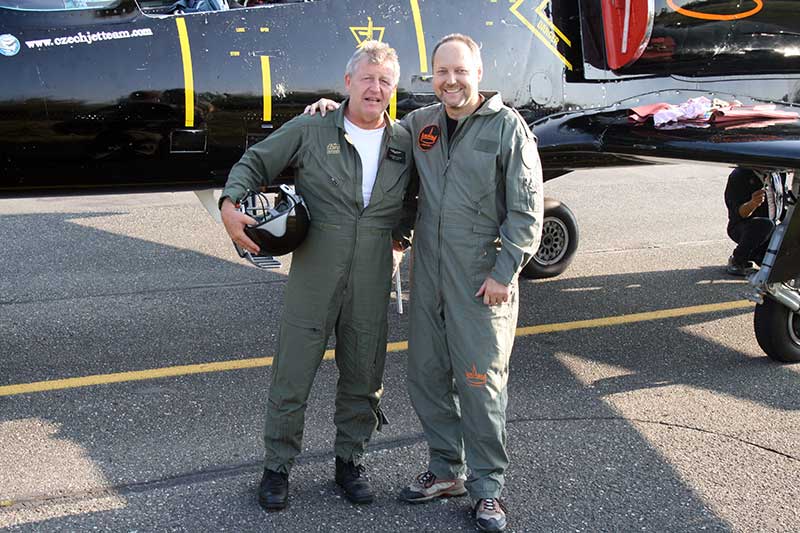 We push the plane into the hangar and today the boys from Pilsen had "done". I went because the last during the day, so after my flight had "fallen".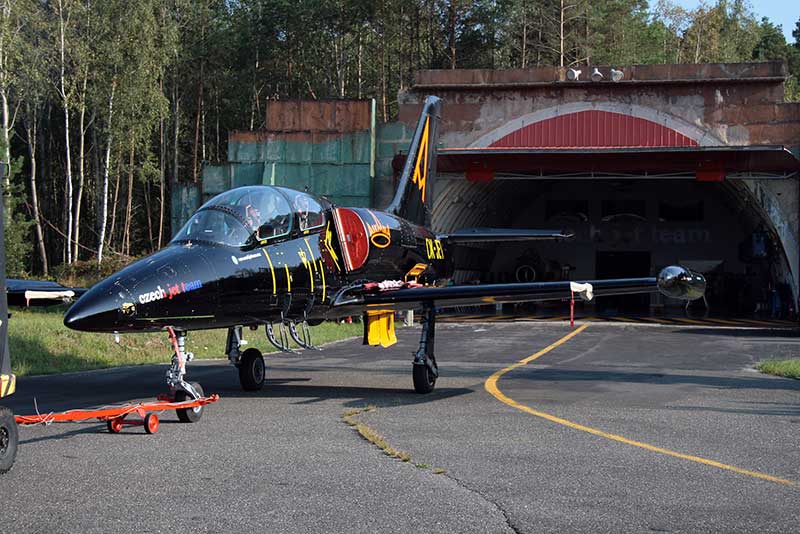 That pilots are not only tough guys and machýrci evidenced by the following photo!! The hangar came a beautiful lady with a beautiful horse. Vlada jumped into the saddle, as it was ... and a helmet!! Brilliantly mastered the horse and showed us that it was a born horseman. And in the sense that it disagreed with a metal "steed" with wings, but can be easily arranged with four-legged beautiful horse.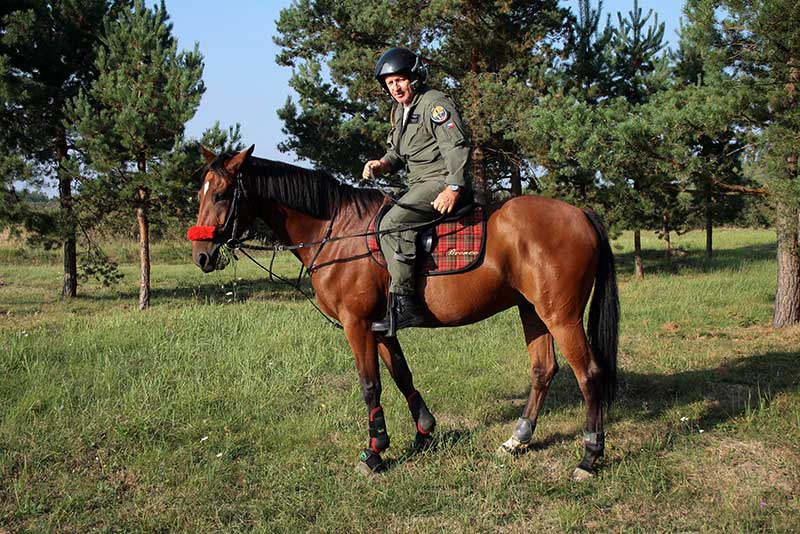 What to write in conclusion??
It is very difficult emotions accumulated in the day when I flew the L-39, but now that I'm writing experience on the web.
Perhaps the only one that probably describes it all: "Boys from PILSEN ... BIG, BIG THANK YOU ... You have my respect."
***
***
Forward to the future ... II
2012.12.01
I want to

share

with you

today's

flying experience

.

Today I was

coaching

circles

and a bit

flying

we had

with Thomas

Panocha,

my friend

and teacher

.

I

caught

some nice

photos.

This morning

it was

even nicer, told me Tom.

Too bad

one can not

be everywhere.

And

at least a couple

of photos

of the "

Fly

",

which lasted

60 minutes

.





The first

photo is

from the left

circle

in

LKRO

runway 31

, the position of

the wind.

Do you think

that

someone

thought

of that

flock

to give "

the wind

"?

Of course not

ha

, ha.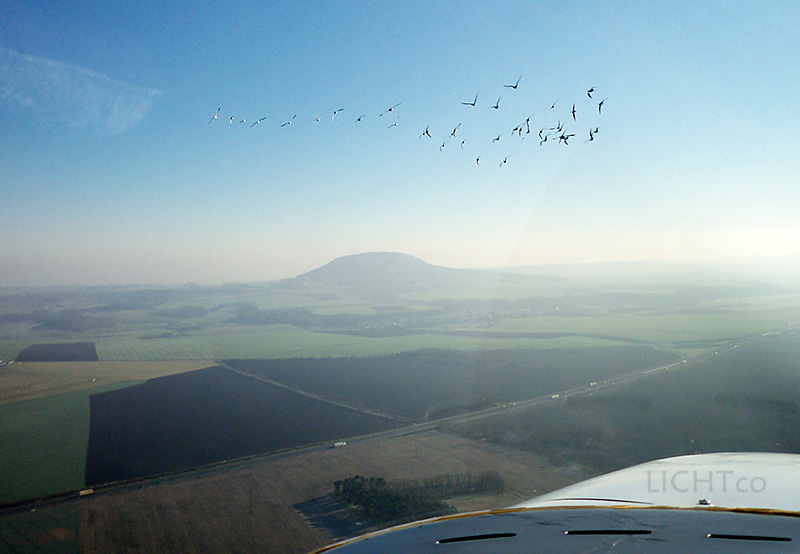 Another photo,
which I
quite
like
is that
misleading.
We're
probably none of
us
such a
biscuit
that
would give us
a little
something
resemble
.
Idea,
but
let
's
each
do
his
.
I will
suggest
.
Yeah,
and
for those
who
did not know ...
's
hill
.
-))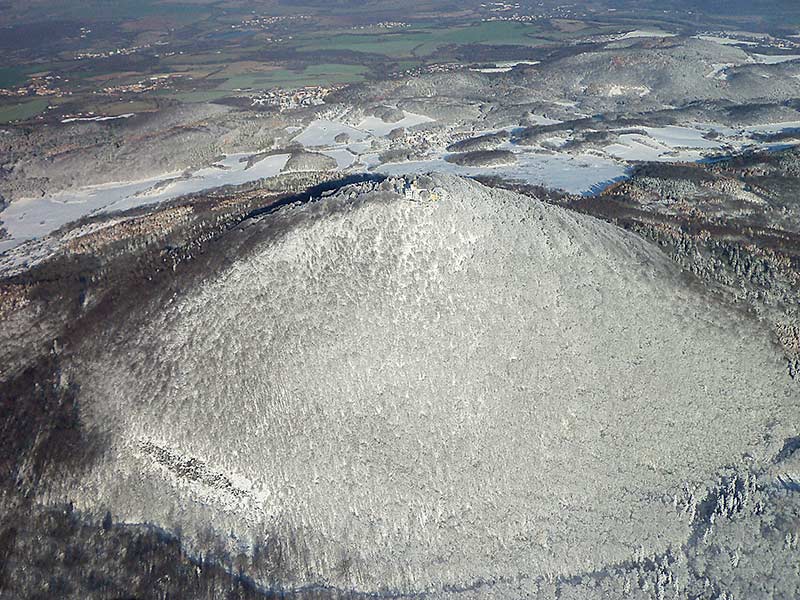 And for

this

I flying.

For

the beauty

that

can be experienced

when flying

!

Is not it

great?

In an aircraft,

heating worked well, engine

signing his

song

.

Peace on board

and the beauty out of

the

window

.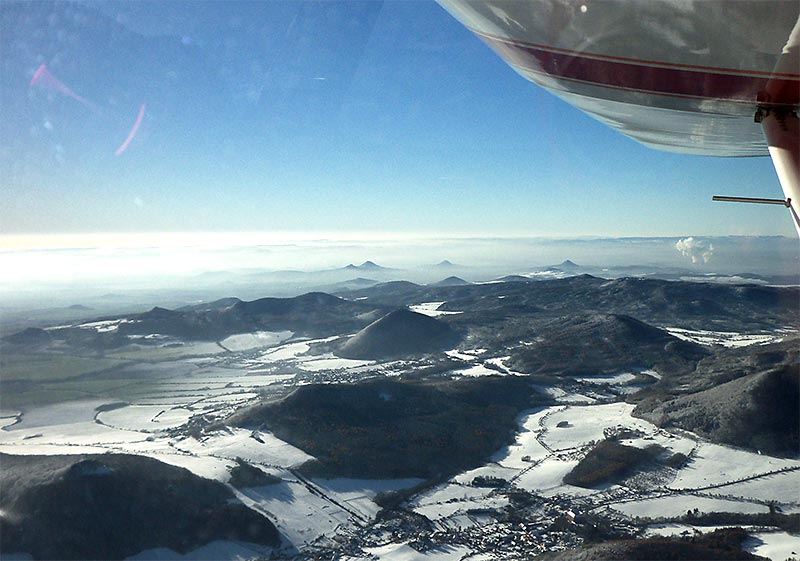 And
what
we did
fly.
On
this beautiful
Skyline
..
OK-
MUO
-69.
Company, which produce her is A
irlony
(
http://www.airlony.cz/
) and she it's
so beautiful
, reliable
and perfectly
flying
ultralight
aircraft.